There are 2 images tagged with "wreath".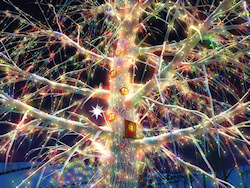 Some little sprite has made itself a cozy home in the trunk of this tree, and has lit it up in honor of Christmas.
December 1, 2021
I had designed these golden bells for an invitation, and then wanted to make more use of them, so I added the wreath and striped ribbons to make a Christmas desktop design.
September 28, 2015