There are 2 images tagged with "sleet".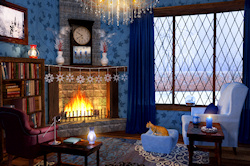 Snow outside, a fire on the hearth, comfortable chairs, good books, something hot to drink, and a cat for company. My ideal of a cozy winter day! I created a rainy autumn day picture of this reading nook, and now I've changed it to a winter day with snow.
This is my digital artwork, not a photograph.
January 27, 2022
This is the kind of day to stay inside and drink something hot while you look out the window at the winter landscape. If that sleet and black ice don't make the indoors more inviting, I don't know what does!
This is the third variation of this scene,
Clouds Go Sailing By
Clear Autumn Day
November 16, 2015