There are 3 images tagged with "relaxing".
I find rainy days very calming …
January 1, 2016
This peaceful landscape was originally for a 3D Environment competition. I didn't win, but it was the first time I felt that I could make an image worth entering. The competition didn't allow for any postwork, but afterward I edited it to give a watercolor effect.
November 30, 2015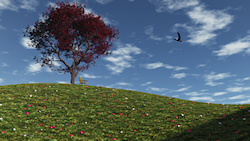 One of my earlist landscapes made in Vue. I originally made this picture for Mother's Day. It's the kind of solitary, quiet place I would love to relax. This has sometimes been mistaken for a fall picture in spite of the flowers and green grass, but it's supposed to be a Japanese maple, which has red or burgundy leaves in the spring.
I made three seasonal variations of this scene,
Clear Autumn Day
Winter's Chill
November 16, 2015