There are 2 images tagged with "eagle".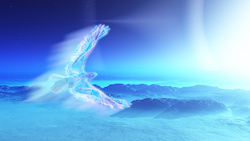 A cold and barren landscape doesn't have to be grim. I did a phoenix-like abstract work before, so I thought an ice phoenix would be an interesting variation. Created in Vue, with the streaming effect done in Paint Shop Pro. The texture on the phoenix is from the background of Waltz of the Snowflakes.
December 30, 2015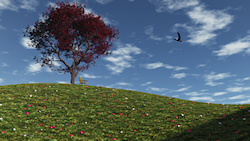 One of my earlist landscapes made in Vue. I originally made this picture for Mother's Day. It's the kind of solitary, quiet place I would love to relax. This has sometimes been mistaken for a fall picture in spite of the flowers and green grass, but it's supposed to be a Japanese maple, which has red or burgundy leaves in the spring.
I made three seasonal variations of this scene,
Clear Autumn Day
Winter's Chill
November 16, 2015