There are 3 images tagged with "butterfly".
Just a flutter of butterflies.
July 20, 2021
I love blue flowers - there aren't that many.
September 13, 2019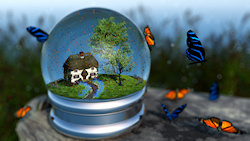 This is my third version of the seasonal globe idea. Even though it's officially fall now, it still feels like summer, and there are lots of butterflies around.
September 24, 2016