There are 2 images tagged with "balcony".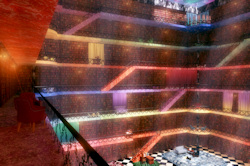 "The library was a mighty hall, lighted from the roof, which was formed of something like glass, vaulted over in a single piece, and stained throughout with a great mysterious picture in gorgeous colouring. The walls were lined from floor to roof with books and books. All around the walls, in front of the books, ran galleries in rows, communicating by stairs. These galleries were built of all kinds of coloured stones; all sorts of marble and granite, with porphyry, jasper, lapis lazuli, agate, and various others, were ranged in wonderful melody of successive colours. Over some parts of the library, descended curtains of silk of various dyes, none of which I ever saw lifted while I was there; and I felt somehow that it would be presumptuous in me to venture to look within them. But the use of the other books seemed free; and day after day I came to the library, threw myself on one of the many sumptuous eastern carpets, which lay here and there on the floor, and read, and read, until weary."
— Phantastes, by George MacDonald
March 1, 2023
"Silence was pleased: now glowed the firmament
With living sapphires: Hesperus that led
The starry host, rode brightest, till the Moon
Rising in clouded Majesty, at length
Apparent queen unveiled her peerless light,
And o're the dark her Silver Mantle threw."
— Paradise Lost
I created this picture in Vue to use for a mural on my bedroom wall.
February 16, 2016