There are 3 images tagged with "highlands".
In a clearing on the side of a mountain sits a little village, with a church in the center surrounded by houses and cottages and barns. Warm lights shine from the windows and colored lights spangle two of the bare winter trees. In front of the church in the middle sits a bright Nativity scene and the village Christmas tree, as the lights within the church send the stained glass patterns streaming out in jeweled colors on the snow. Nearby a family of snowmen are toasting marshmallows over a bonfire.
December 7, 2022
As a solitary traveler nears his destination the bright lights of the mountain village welcome him to a cozy home.
November 15, 2022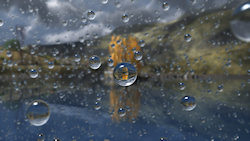 Just a quiet rainy autumn day - in closeup.
This is my digital artwork, not a photograph.
November 13, 2020