There are 2 images tagged with "hall".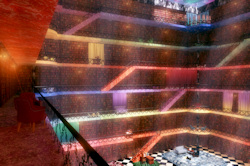 "The library was a mighty hall, lighted from the roof, which was formed of something like glass, vaulted over in a single piece, and stained throughout with a great mysterious picture in gorgeous colouring. The walls were lined from floor to roof with books and books. All around the walls, in front of the books, ran galleries in rows, communicating by stairs. These galleries were built of all kinds of coloured stones; all sorts of marble and granite, with porphyry, jasper, lapis lazuli, agate, and various others, were ranged in wonderful melody of successive colours. Over some parts of the library, descended curtains of silk of various dyes, none of which I ever saw lifted while I was there; and I felt somehow that it would be presumptuous in me to venture to look within them. But the use of the other books seemed free; and day after day I came to the library, threw myself on one of the many sumptuous eastern carpets, which lay here and there on the floor, and read, and read, until weary."
— Phantastes, by George MacDonald
March 1, 2023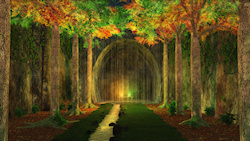 "Beyond them was a wide level space, as though the floor of a great hall had been cut in the side of the hill…, and along each wall stood an aisle of trees.… At the far end the rock-wall was sheer, but at the bottom it had been hollowed back into a shallow bay with an arched roof: the only roof of the wall, save the branches of the trees…. A little stream … fell tinkling down the sheer face of the wall, pouring in silver drops, like a fine curtain in front of the arched bay.
"Treebeard lifted two great vessels and stood them on the table. They seemed to be filled with water, but he held his hands over them, and immediately they began to glow, one with a golden and the other with a rich green light;… Looking back, the hobbit saw that the trees in the court had also begun to glow … until every leaf was edged with light: some green, some gold, some red as copper."
— The Lord of the Rings, Book III, Chapter 4: Treebeard
October 22, 2020