Phantastes: Night in Fairy Land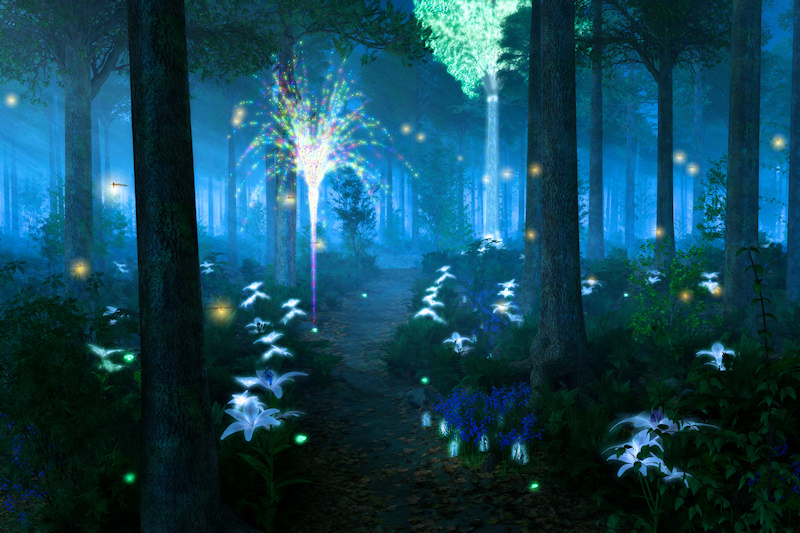 August 13, 2021
"I particularly noticed some tall lilies, which grew on both sides of the way, with large dazzlingly white flowers, set off by the universal green. It was now dark enough for me to see that every flower was shining with a light of its own. Indeed it was by this light that I saw them, an internal, peculiar light, proceeding from each, and not reflected from a common source of light as in the daytime. This light sufficed only for the plant itself, and was not strong enough to cast any but the faintest shadows around it, or to illuminate any of the neighbouring objects with other than the faintest tinge of its own individual hue.
"A little forest of wild hyacinths was alive with exquisite creatures, who stood nearly motionless, with drooping necks, holding each by the stem of her flower, and swaying gently with it, whenever a low breath of wind swung the crowded floral belfry.
"In darker nooks, by the mossy roots of the trees, or in little tufts of grass, each dwelling in a globe of its own green light, glowed the glowworms. I saw great strong-armed beetles, hurrying about with most unwieldy haste, looking apparently for glowworms; for the moment a beetle espied one, it pounced upon it, and bore it away, in spite of its feeble resistance.… It then took the glowworm and held its luminous tail to the dark earthly pellet; when lo, it shot up into the air like a sky-rocket. Just like a rocket too, it burst in the air, and fell in a shower of the most gorgeously coloured sparks of every variety of hue; golden and red, and purple and green, and blue and rosy fires crossed and inter-crossed each other, beneath the shadowy heads, and between the columnar stems of the forest trees.
"In other parts, the whole of the immediately surrounding foliage was illuminated by the interwoven dances in the air of splendidly coloured fire-flies, which sped hither and thither, turned, twisted, crossed, and recrossed, entwining every complexity of intervolved motion. Here and there, whole mighty trees glowed with an emitted phosphorescent light. You could trace the very course of the great roots in the earth by the faint light that came through; and every twig, and every vein on every leaf was a streak of pale fire.
"The moon was high enough to send a great many of her rays down between the trees, and these rays were unusually bright, and sight-giving."
— Phantastes, by George MacDonald
This is free for personal use as screen wallpaper, and is not to be redistributed. Zazzle and Redbubble are print-on-demand companies that are licensed to print my work. Please contact me if you have any questions about the use of this image.
Downloads
---
Comments