There are 12 images tagged with "magic".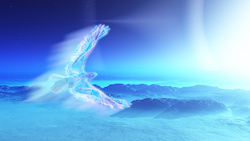 A cold and barren landscape doesn't have to be grim. I did a phoenix-like abstract work before, so I thought an ice phoenix would be an interesting variation. Created in Vue, with the streaming effect done in Paint Shop Pro. The texture on the phoenix is from the background of Waltz of the Snowflakes.
December 30, 2015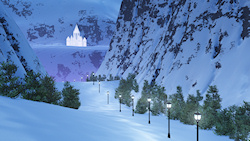 A fantasy winter landscape created in Vue. I wanted a winter scene that focused mainly on the landscape but was obviously fantasy. This was also an experiment in working with snow, getting it to sparkle and reflect the light for an "other-worldly" effect. It was an extremely long render on account of all the lights and reflective and translucent surfaces, but I was able to just run it in stops and starts over about a month.
December 21, 2015