There are 13 images tagged with "Christmas".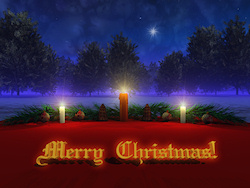 A simple Christmas desktop made in Vue. I like to reuse my abstract designs as textures, so the sky texture comes from Chaos Tie-Dyed, and the red and gold balls from Rubies & Gold.
December 17, 2015
I had designed these golden bells for an invitation, and then wanted to make more use of them, so I added the wreath and striped ribbons to make a Christmas desktop design.
September 28, 2015
This Christmas-themed illustration uses several Apophysis fractals for texture. I had seen another wallpaper with hanging ornaments like this and wanted to try something similar. The golden swirl fractal is one of my particular favorites, and it worked well as an ornament design.
August 4, 2015